The Envision code playground
The Envision code playground is a programming environment made publicly available by Lokad. The playground is accessible from https://try.lokad.com. The playground does not require registration and is intended for educational purposes.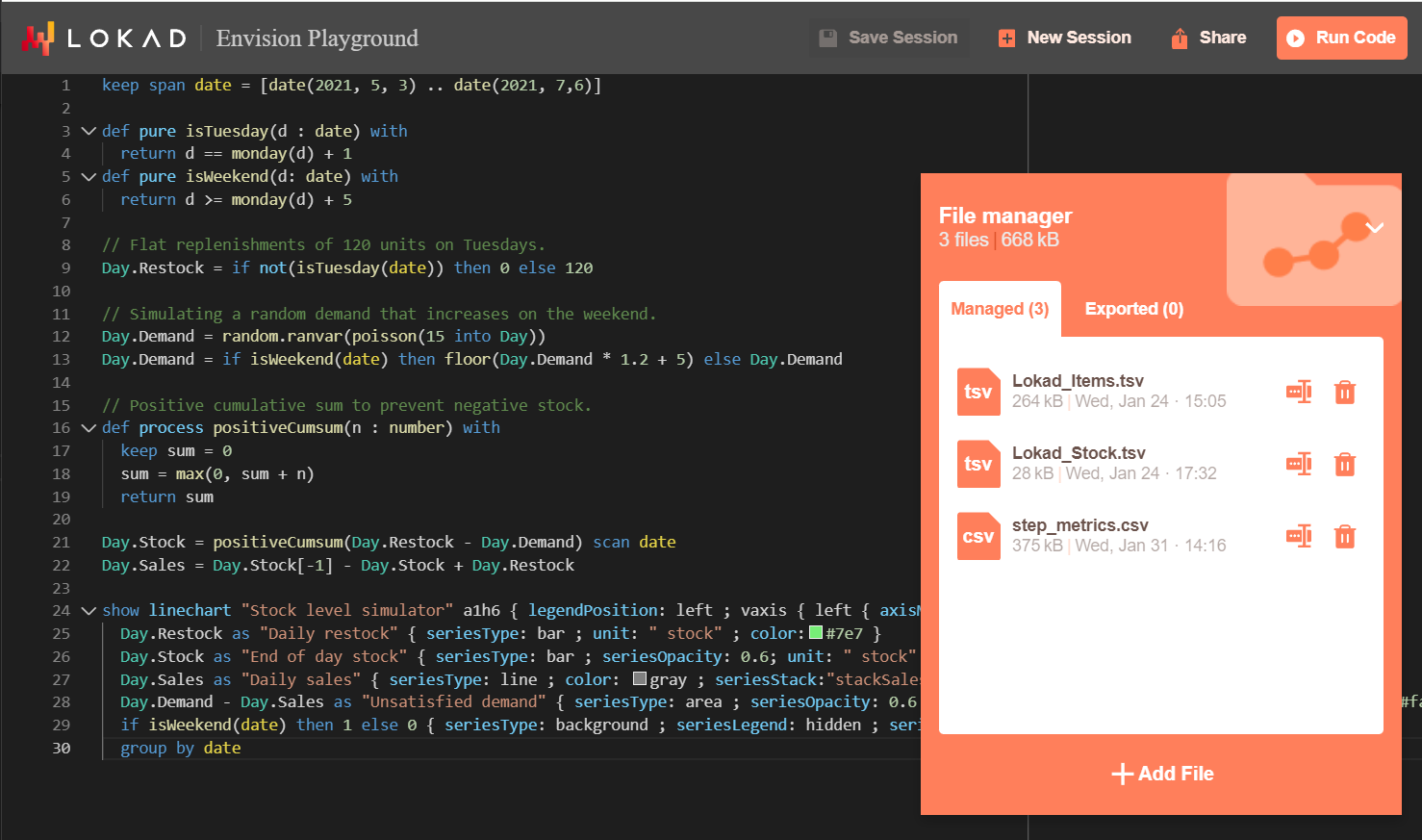 Code, Files and Output
The playground includes three tabs.
The Code tab is a code editor for the Envision programming language.
The Files tab is a minimal file system, to be processed by the Envision script.
The Output tab shows the dashboard as generated by the Envision script.
Clicking the Output tab triggers the execution of the Envision script. Afterward, you can return to Code to resume editing the script, if desired.
Sessions
A session includes an Envision script and a set of files. The session reflects a persistent state of the playground. The session allows resuming the use of the playground while preserving the former entries. Each session may be reached through two URLs:
A private URL: this URL grants access to all the data of the session - both script and files - as well as grants the right to further edit the session.

A public URL: this URL also grants access to all the data of the session. However, it creates a new session, copying the original. The original session is not impacted by edits made on the copied one. Both URLs can be accessed by clicking the Share button. In the specific case of a professor composing a programming exercise for his students, the professor would create a session associated with the exercise. He would then share the public URL of this session with his students. The professor would keep the private URL to himself in case there is a typo that needs to be fixed in the original exercise.
Check out this public session that comes a sample dataset illustrating a simple inventory replenishment situation.
Acceptable use
Keep it legal and professional. There is no usage restriction for this environment beyond what common sense dictates.
Commercial use is largely acceptable (the fine print is given below). For example, this environment can be used as part of a paid training program. This environment can also be used as part of a consulting mission. Regardless of commercial application, Lokad does not expect any kind of fees to be paid. Conversely, Lokad does not make any commitment concerning the allotment of computing resources (see below).
We reserve, in perpetuity, the right to adjust, at any time, the allotment of computing resources for this playground. Our hope is to keep the allotment high enough to support tasks that would reasonably qualify as an educational undertaking, or as small-scale supply chain analysis, but we do not commit to any specific allotment of resources. These adjustments can/will be made whenever the company deems fit, and Lokad is under no obligation to advertise these changes, neither in advance nor after the fact.
Data and security
The playground is designed for the public sharing of educational materials. Data submitted to the playground is made publicly accessible through URLs without authentication. Thus, do not submit any data to the playground that you are not in a position to publicly share.
Any data submitted to the playground remains the property of its original owner. Lokad does not claim any rights to, or ownership of, any data submitted. Lokad will not use this data for any purposes besides operating and improving the playground itself. In particular, Lokad will not resell uploaded data. Conversely, Lokad makes no commitment to preserving the data.
If you want to remove any data from the playground, write an email to contact@lokad.com specifying the URLs that you wish to see removed.
Besides the public access to the playground itself, we will not grant access to this data to any third party except those involved with the infrastructure of the playground. This includes, for example, the cloud computing platform we use.
Terms of service
This Service Agreement sets forth the terms and conditions of your use of try.lokad.com, the trial version of the online quantitative supply chain optimization software developed by LOKAD. This free trial version is made available for testing purposes or educational purposes for academic entities and staff. It is not intended to be used in a production setup for businesses and commercial entities and it cannot be commercialized. Be aware that the computation power made available for this trial version is limited and does not reflect the capacities of the commercial version of the software. Some of the features might not be accessible.
This Service Agreement (hereafter referred to as the "Agreement") sets forth the terms and conditions of your use of try.lokad.com (hereafter referred to as the "Service"), the trial version of the online quantitative supply chain optimization software (hereafter referred to as the "Software") developed by LOKAD (hereafter referred to as the "Company" or "Lokad").
THIS IS A BINDING AGREEMENT BETWEEN LOKAD AND YOU (INCLUDING ANY LEGAL ENTITY OR ORGANIZATION BY WHICH YOU ARE EMPLOYED OR ON BEHALF OF WHICH YOU ARE USING THE SERVICE, COLLECTIVELY "YOU"). THIS AGREEMENT BECOMES BINDING AS SOON AS YOU ACCESS OR USE THE SERVICE. USE THIS SERVICE ONLY AFTER YOU HAVE CAREFULLY READ THIS AGREEMENT. BY USING THE SERVICE, YOU ARE AGREEING TO ALL THE TERMS AND CONDITIONS OF THIS AGREEMENT. IF YOU HAVE ANY QUESTIONS ABOUT THIS AGREEMENT, PLEASE CONTACT THE COMPANY AT CONTACT@LOKAD.COM.
1. DEFINITIONS
Capitalized terms in this Agreement have the following meanings when used in this Agreement:
"Technology" means all of Lokad's proprietary technology (including software, products, processes,algorithms, user interfaces, know-how, techniques, designs and other tangible or intangible technical material or information) made available to You by Lokad in providing the Service.
"Content" (or "Your Content") means any data or information that You display, transmit, generate, or store using the Service. Content includes the data You use in order to make use of the Service.
"Documentation" means the online documentation (including online videos, demonstrations, articles, and similar media) or other documentation provided by Lokad describing or otherwise relating to the Service or its use.
"Production" means a live environment that is in commercial or production use, or any environment that is connected to an ordering or e-commerce system capable of processing transactions.
2. RIGHTS, OBLIGATIONS AND RESTRICTIONS
2.1 Intellectual Property rights
You acknowledge and agree that all rights, title and interest in and to the Technology and Service and all derivatives thereof (including any and all patents, copyrights, trade secret rights, trademarks and other intellectual property or proprietary rights therein or related thereto) are and shall remain Lokad's or its licensors', and this Agreement in no way conveys any right to or interest in the Lokad Technology, Service or Documentation other than a limited right to use the Service and Documentation in accordance herewith.
2.2 Evaluation Rights
Subject to the terms and conditions of this Agreement, Lokad hereby grants You a non-exclusive, non-transferable, non-sublicensable right to access and use the Service, solely for i) Your internal testing and evaluation purposes in considering whether to acquire a non-trial version of Lokad's services on which the Service is based, or ii) educational purposes for academic entities and staff to serve as an educational support to train supply chain practitioners. Nothing in this Agreement will be interpreted or construed as a sale of the Service.
2.3 Feedback
To the extent that You provide Lokad with verbal feedback and/or written feedback related to Your use of the Service, including, but not limited to, a report of any errors or problems encountered in using the Service, or ideas for enhancements of the Services, such reports, and any other materials, information, ideas, concepts, feedback and know-how provided by You to Lokad, and any information reported automatically through the Service to Lokad (collectively, the "Feedback") will be the property of Lokad. You agree to assign, and hereby assign, all right, title and interest worldwide in the Feedback, and the related intellectual property rights, to Lokad and agree to assist Lokad, at Lokad's expense, in perfecting and enforcing such rights if needed.
2.4 Passwords and logins
Try.lokad.com is accessible through one or more work sessions. Each session comes with a unique identifier that cannot be changed. Anyone with knowledge of the session's identifier can access this session. You may also choose to allow read-only access to a session by creating a dedicated URL. You are responsible for protecting and safeguarding any identifiers, URLs, and passwords of any kind, or other login information (collectively, "Passwords") that are provided to You by Lokad or that are generated in connection with Your use of the Service. You are fully responsible for all activities that occur on the Service under Your Password(s).
2.5 Obligations
You: (i) shall not attempt to reproduce, modify, translate, enhance, decompile, disassemble, reverse engineer, or create derivative works of the Service, or Lokad Technology; (ii) shall not rent, lease, or sublicense the Service; (iii) shall not attempt to remove or alter any proprietary notice or legends appearing in the Service, Lokad Technology, or Documentation; (iv) shall not attempt to circumvent the technical measures put in place by Lokad to protect the quality and availability of the Service, in particular You shall not try to degrade the availability of the Service to other users through a disproportionate use of the Service (e.g., unreasonable number of requests, denial of service attacks, etc.); (v) shall not disclose or make any Password(s) available to any other person, nor provide, divulge, disclose, or make available to, or permit the use of, the Service by any third party; (vi) shall use all commercially reasonable efforts to prevent unauthorized access to, or use of, the Service; (vii) shall not use the Service, Lokad Technology in any way whatsoever not authorized by this Agreement, including (a) in a production setup for businesses and commercial entities instead of a temporary trial use, (b) for any competitive purposes (competitive purposes means any and all activities related to the development, design, sale, marketing or support of business analytics products, software or services, other than Feedback given to Lokad about the Service) or to copy any ideas, features or functions of the Service, or (c) for resale, any other commercial exploitation, or any access or use by or for the benefit of any third party.
3. ACKNOWLEDGMENT OF RISKS RELATED TO YOUR CONTENT
You represent and warrant that You are the owner, or legal custodian, of all Your Content and have the full authority to display, transmit, generate, or store Your Content using the Lokad Service. You shall have sole responsibility for the accuracy, quality, integrity, legality, reliability, and appropriateness of Your Content.
Lokad does not guarantee the security of Your Content, or that any of Your Content will be stored or retrievable at any later time in your sessions (see 2.4 Passwords and logins).
Additionally, Lokad makes no guarantee that Your Content will be deleted within a certain timeframe or at all, once you cease using the Service, or if your access is suspended, limited or terminated. In addition, You acknowledge and accept the risks inherent in using trial software, including the risk that your Content could be deleted, modified, or corrupted.
4. SUSPENSION, LIMITATION, OR TERMINATION
Lokad shall be entitled to suspend, terminate, or limit Your access to, and use of, the Service, at any time and for any reason or no reason.
Your access to, and use of, the Service may also be suspended for the duration of any scheduled or unscheduled maintenance or downtime, including as a result of power outages, system or Internet failures or other interruptions, or any other acts, omissions, or failures on the part of Lokad's third-party providers.
5. CONFIDENTIALITY
You acknowledge that the Service, Lokad Technology, and Documentation embody valuable, confidential, and secret information of Lokad and its licensors, the development of which required the expenditure of considerable time and money. During and after the term of this Agreement, You shall not, without the prior written consent of Lokad, use (except as expressly permitted herein), or disclose to any other person or third party, any part of the Service, Lokad Technology, or any other information that you receive or learn in Your activities hereunder relating to the Lokad Technology, Service, or the non-trial version of Lokad's services on which the Service is based.
Without limiting the foregoing, You may not publish or disclose to any third party, without the prior consent of Lokad, the results of any benchmark, comparison or other tests performed on the Service.
6. SECURITY AND PRIVACY
Lokad does not require personal information for Your access and use of the Service.
With regard to Your Content, You shall not use the Service to process any sensitive Information and You shall make use reasonable efforts to restrict the inclusion of personal information in Your Content.
Lokad may process information about Your configuration and use of the Service (hereafter referred to as "Usage Data"), Your Content (including data used to test the Service), and account data: (a) to manage Your account; (b) to provide and improve the Service and support, including to address requests for support and troubleshoot other issues; (c) to provide You and other Service users insights, service and feature announcements and other reporting; (d) to satisfy any legal requirements. Lokad may also process Usage Data: (i) to develop new services and features and (ii) to promote Lokad's services, including, for example, through analyses of patterns and trends.
7. SUPPORT
The Service does not include the setting up and/ or configuration of Your account on try.lokad.com, or the configuration of any tests. Such activity will be Your responsibility.
For any technical and non-technical support related to the Service and Technology, questions must be sent to contact@lokad.com. Lokad will aim to provide you support to improve Your experience on try.lokad.com, but You acknowledge that Lokad has no obligation to provide You support and makes no warranty in terms of response time.
8. DISCLAIMER OF WARRANTIES
THE SERVICE (INCLUDING ANY RELATED SUPPORT AND DOCUMENTATION) IS MADE AVAILABLE TO YOU ON A TRIAL BASIS AND IS PROVIDED "AS IS", WITHOUT WARRANTY OF ANY KIND.
LOKAD DOES NOT MAKE ANY, AND SPECIFICALLY DISCLAIMS ALL REPRESENTATIONS AND WARRANTIES, EXPRESS OR IMPLIED, INCLUDING ANY WARRANTY OF MERCHANTABILITY, FITNESS FOR A PARTICULAR PURPOSE, TITLE, OR NON-INFRINGEMENT.
Without limiting the foregoing, Lokad does not warrant that: (i) the Service will meet Your requirements; or (ii) the Service will operate without interruption or be error- free. Furthermore, Lokad is not responsible for delays, delivery failures, or any other loss or damage resulting from the transfer of data over communications networks and facilities, including the Internet, or for the use of the results of the Service (including but not limited to, numerical results, forecasts, purchase orders suggestions, etc.).
It is acknowledged that the Service may be subject to limitations, delays, and other problems inherent in the use of the Internet, servers and services provided to Lokad by third-party providers, and similar network and communications infrastructure.
9. LIMITATION OF LIABILITY
TO THE EXTENT NOT PROHIBITED BY LAW, IN NO EVENT SHALL LOKAD, OR ITS DIRECTORS, OFFICERS, EMPLOYEES, TECHNOLOGY PARTNERS, SERVICE PROVIDERS, LICENSORS OR SUPPLIERS, AFFILIATES OR AGENTS BE LIABLE UNDER ANY CONTRACT, TORT (INCLUDING NEGLIGENCE) OR OTHER LEGAL OR EQUITABLE THEORY FOR ANY DIRECT, INDIRECT, SPECIAL, INCIDENTAL, PUNITIVE, EXEMPLARY, COVER, RELIANCE OR CONSEQUENTIAL DAMAGES OF ANY KIND ARISING FROM OR RELATED TO THE SERVICE OR THIS AGREEMENT, INCLUDING LOSS OF DATA OR PROFITS, WHETHER OR NOT LOKAD HAS BEEN ADVISED OF THE POSSIBILITY OF SUCH DAMAGES.
YOU AGREE THAT SUCH LIMITATION IS FAIR AND REASONABLE IN LIGHT OF THE TERMS UNDER WHICH THE SERVICE IS BEING MADE AVAILABLE TO YOU. THIS LIMITATION WILL APPLY EVEN IF ANY REMEDY STATED HEREIN IS FOUND TO HAVE FAILED OF ITS ESSENTIAL PURPOSE.
You acknowledge that using the Service in a production environment or in a manner that touches its production services is expressly forbidden as per the terms of this Agreement and can damage, impair, or interfere with Your normal business operations. Lokad will have no liability to You for any damages, costs, expenses or charges of any kind resulting from any test on a production environment or on a system that interoperates with Your production environment or systems, and You acknowledge and agree that You alone will have sole and exclusive liability for any damages, costs, expenses or claims arising from any direct or indirect use of the Service in a production environment.
10. INDEMNIFICATION
You agree to defend, indemnify, and hold harmless Lokad, licensors, suppliers, resellers, officers, employees, technology partners, affiliates and agents from and against any suit, proceeding, assertion, damages, cost, liability, penalties, fines and expenses (including court costs and reasonable attorneys' fees) arising from or related to your use or misuse of the Service.
11. TERM AND TERMINATION
This Agreement will remain in effect as long as you keep using the Service or until Lokad suspends your use of the Service. Lokad has no obligation to inform You of such a suspension.
Upon termination of this Agreement, You shall make no further use of the Service. Termination of this Agreement shall not affect any obligations accrued prior thereto. Sections 2.1, 2.3, 2.5, 2.6, 7 and 8 herein shall survive termination of this Agreement.
12. MISCELLANEOUS
a. Applicable Law - To the maximum extent permitted by law, this Agreement shall be governed by, construed, and enforced in accordance with the laws of France, without regard to its conflicts of law rules, and both Parties hereby consent to the exclusive jurisdiction and venue of courts in Paris in all disputes arising out of or relating to the use of the Service. Use of the Service is unauthorized in any jurisdiction that does not give effect to all provisions of this Agreement, including, without limitation, this paragraph.
b. Entire Agreement - Unless otherwise expressly stated herein, this Agreement, along with any exhibit or addendum hereto, constitutes the entire agreement between You and Lokad with respect to the Service and supersedes all prior or contemporaneous communications, proposals and agreements, whether electronic, oral or written, between the Parties with respect to the subject of this Agreement. To the extent of any conflict or inconsistency between the provisions in the body of this Agreement and any exhibit or addendum hereto, the terms of such exhibit or addendum shall prevail. This Agreement may not be amended or otherwise modified except by any express written agreement signed by both Lokad and You. Lokad's failure to object elsewhere to any provisions of any subsequent document, communication, or act on Your part shall not be deemed a waiver of any of the terms hereof. The Party's obligations hereunder are neither contingent on the delivery of any future functionality or features of the Service nor dependent on any oral or written public comments made by Lokad regarding future functionality or features of the Service.
c. Assignment – The Provider may assign or transfer this Agreement to any successor. You may not assign or otherwise transfer this Agreement or any of Your rights or obligations hereunder.
d. Relationship of the Parties – Nothing in this Agreement may be construed as creating or constituting a partnership, joint venture, or agency relationship between the parties, or giving either party the right to bind the other party or incur obligations on its behalf.
e. Compliance with Laws – Lokad will comply with all applicable French laws, and other laws applicable to its provision of the Service and its handling of Customer's data. Lokad's provision of the Service is subject to existing laws and legal processes, including Lokad's rights and obligations to cooperate and comply with governmental, court and law enforcement requests or requirements relating to Your use of the Service or information provided to or gathered by Lokad with respect to such use. Lokad reserves the right at all times to disclose any information as necessary to satisfy any applicable law, regulation, legal process or governmental request subject to the confidentiality obligations hereunder.
f. Severability - If any part of this Agreement is determined to be invalid or unenforceable pursuant to applicable law including, but not limited to, the warranty disclaimers and liability limitations set forth above, then the invalid or unenforceable provision will be deemed superseded by a valid, enforceable provision that most closely matches the intent of the original provision and the remainder of this Agreement shall continue in full force and effect.
g. Notices - All notices required or permitted hereunder shall be in writing. Without limitation, any notice to You shall be sufficient, and deemed received immediately, if sent by email to the email address You submitted as part of your registration information.
h. Interpretation - This Agreement shall be construed and interpreted, in accordance with the plain meaning of its terms, and there shall be no presumption or inference against the party drafting this Agreement in construing or interpreting the provisions hereof. The headings of sections included in this Agreement are inserted for convenience only and are not intended to affect the meaning or interpretation of this Agreement.
i. Language - It is the express wish of the parties that this Agreement and all related documents be drawn up in English. Any non-English versions of this Agreement are provided solely for accommodation purposes.
j. Authority - Each Party represents and warrants to the other that it has full power and authority to enter into this Agreement and that it is binding upon such Party and enforceable in accordance with its terms.